Let's face it – we all know that feeling. Nothing works, you're stressed, your self-confidence is at an all-time low, your skin is reddened and itches more than it has in months. Psoriasis has struck again… It is precisely these moments when it is so difficult to leave the house and, in spite of psoriasis, to go out among people and unintentionally take center stage.
Psoriasis is not (yet) a part of society
At least on bad days, the thought often comes up that all eyes are on you. And not because you are dressed particularly elegantly today, but because your skin seems to be particularly obviously taken up by psoriasis (and on such days you literally don't have a thick skin, but rather a psoriatic armor). Part of the reason for this is certainly that psoriasis still leads a shadowy existence in society and is hardly ever seen in public. As a person affected, you often get the feeling that you are the only one with the disease – far or near. There is a lack of affected people who show themselves in public to reduce the skepticism towards the disease. In many cases there is also a lack of knowledge about one of the most underestimated, non-infectious diseases.
Living with psoriasis
As is so often the case here, the USA is one step ahead. Stars such as Kim Kardashian no longer want to hide their affected skin areas and are thus doing enormous educational work for the disease. Through their self-confident approach, they create social acceptance. Although there are a number of celebrities with psoriasis in Germany (here you can find some examples), they are far less self-confident and offensive in dealing with psoriasis in public. But does it always have to be stars who set trends? That's what Healthline, America's fastest-growing information medium with a focus on health, thought as well. Every year, the best blogs on the topic of psoriasis are chosen, which provide high-quality information and inspire other affected people and strengthen collective self-confidence. Unfortunately, this euphoria has not yet spilled over to Germany. So, there is not much to see when it comes to stars who support the disease, nor those affected. On the contrary, many affected people feel alone and isolated.
Everyone can inspire others and be a pioneer.
We at Simply Psoriasis believe that everyone can do their part and those affected can benefit greatly from other affected people. Everybody can be a pioneer of a new way of dealing with the chronic skin disease. But this requires courageous people who tell about their lives, their problems, their little tricks and knacks or maybe even the beautiful moments with psoriasis. People who don't hide but accept the skin disease and show that psoriasis can also be beautiful. People who motivate others, increase their self-confidence and give them the feeling that they are not alone. In other words, it needs people like you! Simply Psoriasis offers a completely new kind of platform for this, which, in addition to high-quality information on the subject of psoriasis, places particular emphasis on the stories of people with psoriasis.
Become part of Simply Psoriasis and tell us your story!
Help us to bundle all the necessary information as well as helpful products and services for psoriatics on one platform. We are firmly convinced that through years of work, every affected person has developed into a mini-professional regarding psoriasis and that people can't learn more about psoriasis from anyone than from the people who are affected themselves. So, tell us your story! What is your everyday life with psoriasis like? Have you particularly benefited from any form of therapy (e.g. UV radiation, brine baths or biologicals)? Have you perhaps taken an alternative path completely outside of classical medicine (e.g. homeopathy or acupuncture)? Did you change your diet over the years and get your psoriasis under control? Or are you a yoga master and do you know valuable tips to balance skin and soul?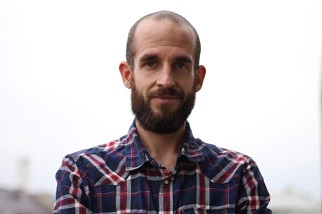 Bernd is one of the founders of Simply Psoriasis. He has been suffering from psoriasis for more than 20 years, but sees the chronic skin disease with more composure than a few years ago (which was a hard work). Nevertheless, he is very keen to make psoriasis easier and more socially accepted.