Cheerful, eloquent and pretty, these are probably the first words that come to mind when youmeet Anna for the first time. The prospective health psychologist is having a  relaxed chat about her hobbies, the upcoming bachelor thesis and her plans for the future. She wants to travel more, sport is important and she also wants to make progress in her job. But there is also another topic Anna would like to talk about. And this is her psoriasis. Because the world should know what this skin disease exactly means and that affected people are not alone.
This is Anna
Anna lives in Cologne, Germany. She likes living here. "There is always something going onhere and the people are super relaxed and open" she says. "The city simply  has flair! I like that," she adds. But she regularly feels the need to go abroad. Traveling is her great passion. No matter whether it's Australia, Russia or Norway; Anna has already been on the road in all corners of the world. She still wants to see a lot and her eyes start to shine when she talks about the countries she's dying to see. "I definitely want to visit Canada and I really want to go to New Zealand," she says. Whoever hears her speak will immediately notice that there sits a determined and bright woman who knows exactly what she wants from life. So it is almost
logical that she is still studying in addition to her work. As a balance to work and study, Anna does a lot of sports. She especially loves tennis. Since her childhood she has been an enthusiastic player. The courses in the gym are also a great way to relax after a long working day. "Sport is simply one of my greatest hobbies"; she says with a laugh.
However, all these activities are not self-evident. Because Anna has psoriasis. And even if she has learned to handle it well in the meantime, this was not always the case.
The Discovery
Anna's psoriasis began in a very classical way. "During puberty, I noticed I was getting spots on my skin. I didn't know what it was, but my mom knew right away. My dad also has psoriasis and immediately knew that I inherited the disease from him," she says. In the beginning, psoriasis was not a big issue either. Psoriasis was mainly visible on the scalp and only occasionally on the body. Nothing that would have noticeably limited Anna. She ignored the psoriasis as best as she could and enjoyed her life.
But the symptoms increase with the years. More and more areas are affected and the itching also becomes stronger. In her early 20s, she decided that she wants to be treated.
The first therapy
Following her mother';s advice, Anna went to the doctor. And he's not a man to be trifled with. A systemic therapy with fumaderm accompanied by an autohemotherapy should help Anna. Anna swallowed tablets, blood was taken from her and then injected back into her hip. "It's actually totally rad that the doctor started such a violent therapy right away. My psoriasis was not that bad at the time. Maybe we could have just tried skin creams in the beginning. But I didn't know all that then." Anna seems thoughtful when she talks about it. The therapy was working. Especially fumaderm brings good results. Nevertheless this left deep impressions. Anna says that during the therapy she became aware for the first time that she has psoriasis and what it means for her. "Before that, I didn't deal with it so much. But then I realized, I
have to treat this".
Anna began informing herself about psoriasis. She dealt with treatment methods while exploring what is good for her and her body. She experimented with her diet and read a lot on the subject. She became more alert to her body. There are good phases – and then the phases in which psoriasis is present every day.
About the not so good times
Especially in autumn there are thrusts. The psoriasis spreads over the body like a garland. "It's really affecting me. Sometimes the episodes are really bad. This has an effect on my self-confidence and psyche. I don't like to go out then, make sure I don't put on dark clothes so you can't see the scales." Anna, who is otherwise so cheerful, becomes quiet when she talks about her difficult phases.
Fortunately, Anna has now learned to cope well with the difficult phases of the disease. Above all, overcoming herself and going out and not taking the disease so hard helps her a lot. And Anna wants to set an example. She finds it important to be open with her psoriasis and to lead a normal life, even if the skin has other plans at the moment.
New self-confidence
Over time, Anna has learned to live with psoriasis. Thinking less about psoriasis, doing things just the same and ignoring people's looks are her means to live a life as carefree as possible.
Social media also helps her."It's really good to see that you're not alone. I get totally
inspired when I see other people from all over the world who are affected by psoriasis and who are confident about their psoriasis and show it without filters or Photoshop". In the meantime Anna herself posts quite openly about her skin disease. The positive feedback encourages her to continue.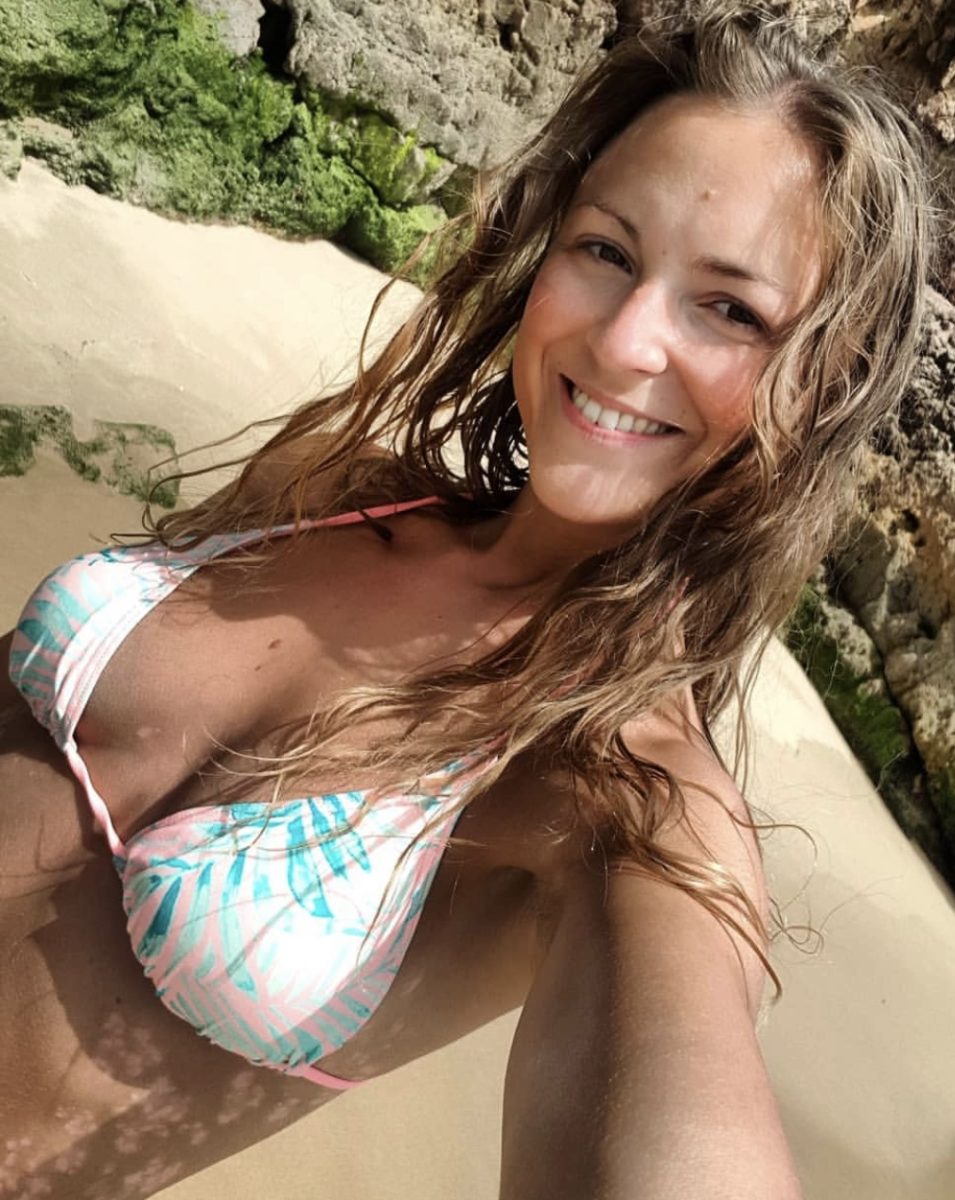 With her long hazelnut-brown hair, Anna is hard to overlook anyway. Sometimes the
psoriasis is also visible. Anna mentions the looks of strangers, which are sometimes really exhausting. But also that she doesn't think so much about it anymore. "Because people are always curious and need something to see anyway," she says laughing.
What helps Anna
One of the most important pillars are the people in Anna's life. No matter whether it's her boyfriend, her mother or her circle of friends: everyone knows about Anna's psoriasis. "Especially my mom is a big help. She's always there for me when I need to talk to someone. My boyfriend also supports me a lot. He lets me cry on him when it's really bad. I'm really lucky with my surroundings. They all always have an open ear for me." It is clear to hear how grateful Anna is for her network. She talks openly about her illness – and enjoys the moments
when psoriasis is not an issue.
Anna firmly believes that the psyche plays an important role in psoriasis. Whoever meets her, immediately recognizes that she is a cheerful person. In spite of the illness, she concentrates on the beautiful moments in life and proves every day anew that she will not let psoriasis get her down. In order to support her skin in this process, the woman from Cologne has now established a routine of care.
Sun, sea and light – and a standard skin cream
At the moment Anna is not under medical treatment, but trusts especially in her own healing method. For her daily care she applies only normal products on her skin and uses body lotion and shampoo from Alterra. A UV comb has also done her scalp good. But the only things that really help are sun and salt water. "In the dry, hot climate my psoriasis completely heals. Especially holidays at the beach are great. Therefore I try to fly regularly on vacation. It just improves my skin so much and it'll be free of scales for weeks afterwards."
But every journey comes to an end at some point and after some time the effect of sun and salt water fades. Therefore Anna has thought about how she can prolong the positive effects of her holidays. While searching for a healing method, she came across a solarium. However, this was not a normal solarium, but a real stroke of luck.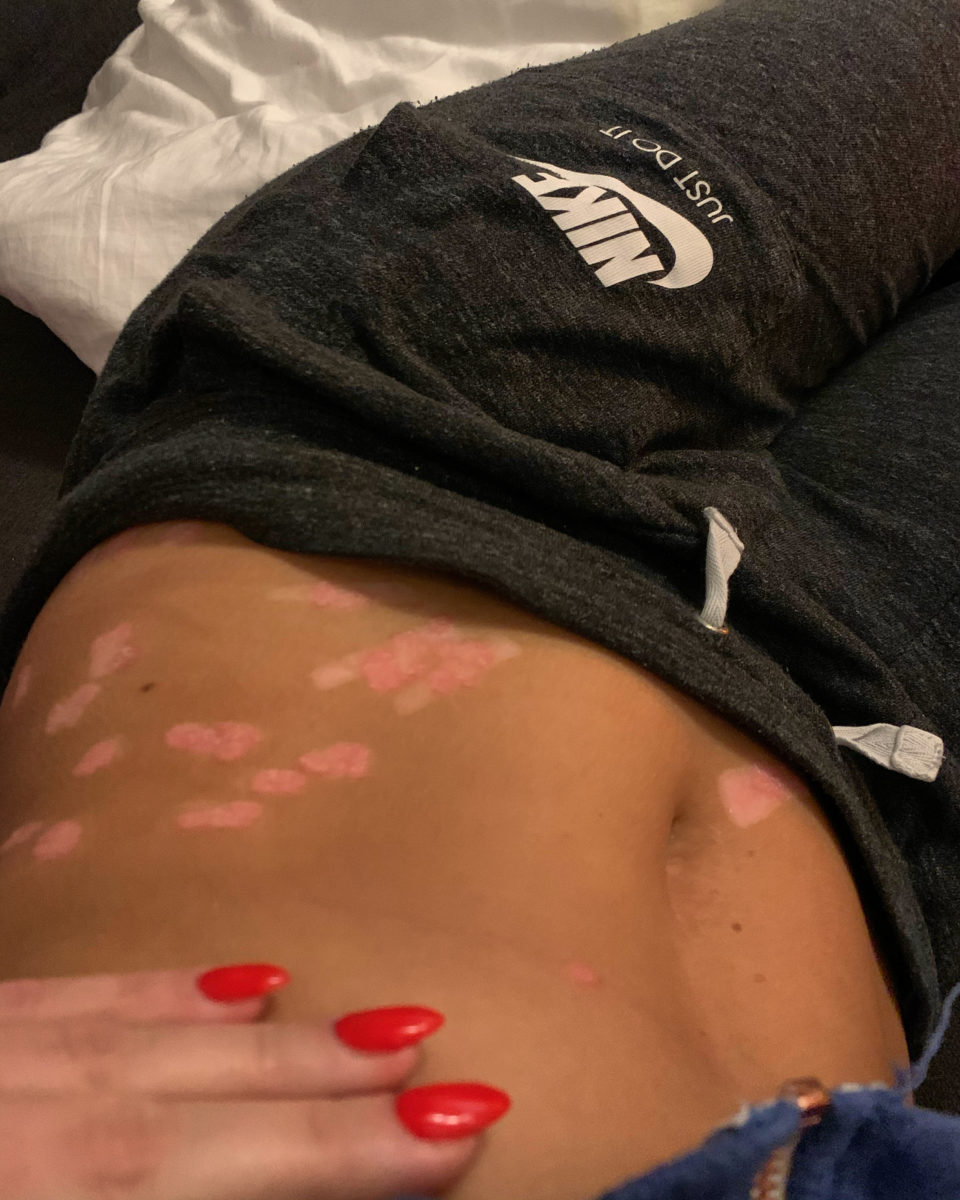 Anna's secret weapons
When visiting the solarium, the employee recommended Anna to try out a so-called
collarium. A collarium works not only with UV radiation, but also with light in different wavelengths. It is therefore particularly suitable for the treatment of skin diseases such as neurodermatitis and psoriasis. "At first I thought it would be useless. But after only a few applications I noticed that my skin responds to the collarium. Especially in winter I try to go to the collarium regularly, because the treatment helps me and my skin."
A healthy lifestyle as the basis for healthy skin
In order to keep her psoriasis under control as much as possible, Anna pays attention to a healthy lifestyle. Above all, nutrition plays a major role in this. She does not eat processed foods and avoids white flour, but eats a lot of fish and vegetables. The renunciation of gluten did not help Anna, but the omission of sugar did. "When I gave up sugar for a while without exception, my itching completely disappeared. That was great! But it's really difficult to leave out the sugar completely, because there's sugar everywhere. And I want to allow myself a little bit of quality of life," she says with a smile as she reveals that she has a sweet tooth.
When Anna talks about her psoriasis, it becomes clear how much she has dealt with the subject in recent years and how important it is to her to provide education. Above all, she would like more people to know about psoriasis. The more common psoriasis is people will recognize that it's neither contagious nor disgusting. But she also sees room for improvement in the health care system.
Things have to change
When asked whether Anna is currently under medical treatment, she tells us that she has been looking for a doctor for weeks. Doctors who specialise in psoriasis are booked out for months and a normal dermatologist is out of the question for the elective Cologne woman. "I'm looking for someone who has knowledge. I don't want a doctor who just looks at the skin superficially and then directly prescribes cortisone or other strong medications like biologics." Her experience with doctors in the past has shaped her. She wants doctors to recognise that psoriasis is an incurable disease that needs to be treated not just superficially but holistically. "One must also get to the bottom of the causes and not just relieve the pain in the short term," she adds.
And she also wants a change for psoriasis sufferers. Anna is concerned that those affected should have a greater exchange of information. But at the moment she still lacks the opportunities for this. Support groups seem very serious and formal to her and she does not want to arbitrarily write to other affected people on social media. She would love a relaxed exchange. "Let the world know what you need to share. It's super important that we affected people talk to each other. Psoriasis is not curable, but you can make a lot out of it. I also hope that my story here on Simply Psoriasis will encourage others to deal with their psoriasis in an open and positive way", she concludes the interview.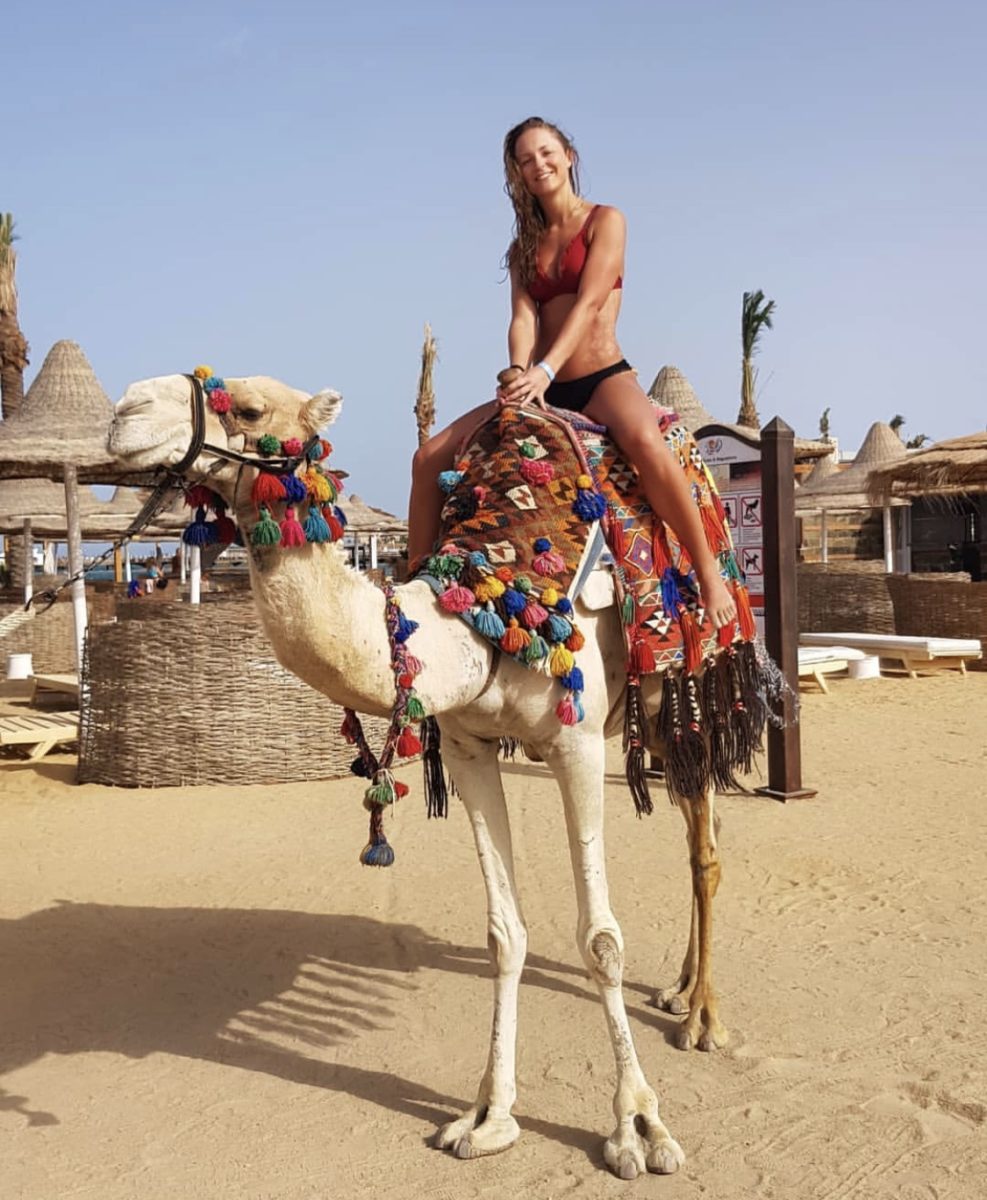 Anna's top 3 tips
Tip 1: Take care of yourself
Psoriasis is a holistic disease. The more you pay attention to a healthy lifestyle, the better you can manage it. A healthy diet, little stress and an environment that helps you in difficult phases are extremely important.
Tip 2: Talk about it
You're not alone with your psoriasis. Get help if you're in trouble. Contact your family,
friends or other people affected so that they can listen to you and support you when the skin goes crazy again.
Tip 3: Try a lot of things
It can take you a long time to figure out what's really helping you. Therefore it is worth trying out different things. These can be medicines, creams and shampoos, but also different types of nutrition and lifestyles. It can be a long process, but at some point you know what's good for you.
Thank you very much for the interview Anna!
If you would like to follow Anna on Instagram, you can do so here:
https://www.instagram.com/psoriasisworld/
How did you like the article? Do you have any other tips you would like to share with us?
We are looking forward to your comments!
All pictures were provided by Anna.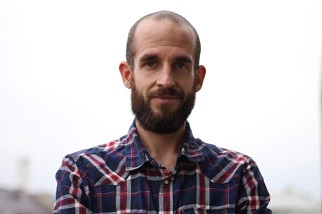 Bernd is one of the founders of Simply Psoriasis. He has been suffering from psoriasis for more than 20 years, but sees the chronic skin disease with more composure than a few years ago (which was a hard work). Nevertheless, he is very keen to make psoriasis easier and more socially accepted.